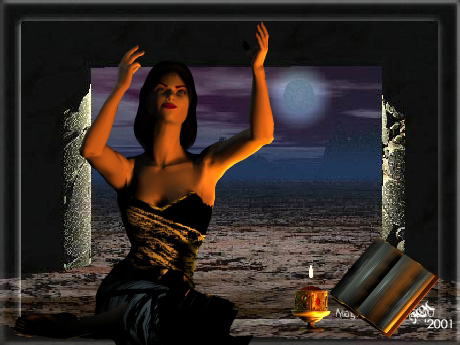 "Spend More Time Performing Ritual's That Matter
&
Less Time On Money Spells"
Every Item In Our Store Is Priced Below Retail.
Up-to-Date Information about Strega's Lair
Find up-to-date information for my on-line store, Strega's Lair, below.
7/24/05~Strega's Lair now proudly accepts American Express and Discover in addition to MasterCard and Visa. This option now appears on the payment page when you're ready to check-out with your purchases. You will be directed to a secure SSL encrypted site to enter your payment information which will then be processed by our merchant account -ProPay.
As of today the item count at Strega's is now over 700. I'm still adding new products every week so be sure to check the NEW ITEMS PAGE often to see our newest offerings.
The Store
Strega's Lair is my dream and one that I'd like to share with all of you.
Work is progressing in between auctions and daily life in general. I'm not nearly finished with the store. I still have quite a bit of inventory to incorporate into the store.
Strega's will be a small store while I work on building inventory but eventually it's going to be huge *grin*
At the moment, I try to work on it every day and add more & more of what I do have in stock. So, don't let me give you the wrong impression~I will have more than 20 items but it isn't going to be Wal-Mart for awhile, yet :-}
The Reason for Strega's Lair
Why an on-line store?
Yes, I have enough to do to fill my time without the store. Yet, there is a reason behind my madness.
I've been doing the auctions for a year & a half now-I love it. But there are certain things that bother me about the selling of Pagan/Wiccan supplies at the auction houses and at other stores I've seen.
I'm not slamming anyone~I truly believe that everyone must walk their own path and do things their own way. From the very beginning of my life, my way was not like most "normal" people's way & my path was not like their path.
I live in the middle of the bible-belt~it is extremely hard to find some of the supplies that I need here. So, like a lot of us, I turned to the net. It's a wonderful way to get what you need and to find a variety of supplies and non-essentials alike.
After I'd done the auctions for awhile (both buying & selling) it seemed to me that some Pagan/Wiccan items were pretty expensive and maybe more expensive than they needed to be.
So, I started researching and found out that quite a few sellers were making huge profits. Which is wonderful if you're the seller but what about all the people who really didn't have the resources to pay that much for supplies?
And so, after much discussion with my husband, and wading thru the states paperwork, Strega's Lair was conceived.
Now that you know why Strega's was conceived, you need to know what the philosophy is behind my selling practices.
It is really very simple~I don't want to be rich, what I do want is for Witch's that don't have a lot of money to be able to buy what they need at a reasonable price. I want to be able to keep the store running, have a fairly good selection of items for my customers & to be able to pay some of our bills~that's it.
Will I have to mark-up from wholesale? Yes. Will you pay $ 12.00 for a $ 2.00 candle? No. Speaking for myself, selling practices like that are not very ethical, I don't feel comfortable doing that and it isn't what I want to do. So, I'm not going to. At this moment, every item in the store is priced below its retail price. As the store grows & I have more money to buy inventory in larger quantities, I will drop the prices even more. That is my promise to all of you.

The Store & Creek Avenue Auctions
Just in case anyone was wondering, I'm not going to quit doing the auctions~they are way to much fun ;-)
At this time I will still auction under the name Creek Avenue Auctions. Eventually CAA will be re-named Strega's Lair Auctions after the store has been established. *UPDATE* Or maybe I'll just keep the name Creek Avenue *grin*.