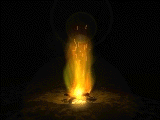 What You Need To Know Before You Bid

You expect certain things from me as the seller (as you have every right to). Here, then, is what I expect from my bidders~
*If you have any questions about the item(s) up for auction or my policies, then please, e-mail me before you bid. I will be more than happy to answer any and all questions and it will save us both trouble later on*
*After the auction closes I will do my best to e-mail you within 24 hours but no later than 72 hours and I expect a reply within 3 days of that e-mail. I think this is a reasonable amount of time even for someone who doesn't check their e-mail everyday*
*I expect to be paid within 7 days of the auctions close. I know how the post office operates, so if you are mailing a money order and have given me the date of mailing, then I will wait for it~I'm not a total witch (not that way, at any rate)*
*If you do not reply to my e-mails or send payment within this time frame you may lose your status as high bidder, item will be offered to the next highest bidder or re-listed. Also, you may earn yourself negative feedback and I may file non-payment complaints. I hate to be harsh but this is my business-it's also how I pay my bills*
*IF YOU CANNOT PAY, OR HAVE NO INTENTION OF PAYING, THEN PLEASE, DO NOT BID*
Creek Avenues Mission Statement
The mission that Creek Avenue Auctions seeks to achieve is pretty simple and straightforward. I want for my customers to have the best auction transaction possible. These are the ways that I try to make this happen:
~I seek to bring my customers unique, quality, lowcost items.
~I treat my customers with courtesy, honesty and respect.
~If a problem arises I will definitely try to help my customer if it is within my power to do so.
~I want to make sure that you, as my customer, receive your item(s) in the best possible condition as quickly as possible.
Payment Information

Creek Avenue Auctions accepts American Express, MasterCard, Discover and Visa credit and debit cards through our merchant account. Instructions for payment by these credit cards will be sent by me in your winning confirmation e-mail.
I also happily accept credit cards, debit cards and e-checks thru PayPal. I am PayPal verified and have been a member for over 5 years. I also accept promptly sent Money Orders. I DO NOT accept Personal Checks.
All PayPal payments may be sent to:
isis1989@mchsi.com
Money orders should be sent to:
Brenda Smith
309 Creek Avenue
Crane, MO. 65633
Please, please put the Auction ID and/or the Auction Title on your payment. I run auctions in addition to Strega's Lair and it can get very confusing without this information.
As stated above, I expect payment within 7 days of auctions close. If something comes up unexpectedly and you need more time to pay, please e-mail me and we will figure out something together. I try to be as flexible as possible.
Shipping Information
*CREEK AVENUE AUCTIONS DOES NOT OFFER INTERNATIONAL SHIPPING AT THIS TIME*
WE SHIP TO ALL 50 STATES AND TO ALL MILITARY BASES, ONLY.
The bidder must send payment in full before I will ship anything. I will ship your package within 72 hours after I receive your payment, unless something drastic comes up. If this happens I will e-mail you to let you know what is going on and when you can expect shipment.
I ship Monday-Friday, excluding holidays when the P.O. is closed.
I am more than happy to combine shipping on multiple auction wins. It saves you money and saves time for me. You may wait until all the auctions that you have bid on close before sending payment~as long as you send payment within 7 days after the last auction's close.
I ship USPS priority mail with confirmation~no exceptions. I ship this way for several reasons:1)The USPS provides priority mailing supplies to me at no cost. Therefore, it helps me keep the cost of my auction items lower. 2)It is one of the fastest ways for you to get your merchandise. Priority mail usually reaches its destination within 2-3 days, making you happy. Plus some of the items that I sell do not do well in the heat, so fast shipping saves melted candles, ect. 3)The confirmation number proves to you that I did, indeed, ship your package and if a package becomes lost the PO can use this number to try and track the package. I will send you the confirmation number for your package by e-mail after I have shipped.
I charge actual shipping costs only. I determine shipping cost by package weight and winner's zip code.
Insurance is not included in shipping price unless stated but is available upon request and highly recommended.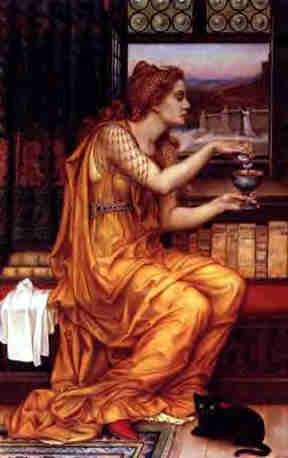 Return and Refund Policies
As stated on the auction page of your item(s):All items are sold on an "as is" basis. I am completely honest about whatever item I am selling. If you have asked questions and read the ad carefully prior to bidding then there should be no reason for returning items. However, there are some situations that will come up that I have not foreseen, I'm sure. For that reason I will set forth the following policy.
Please inspect all items as soon as possible after delivery. If you think that you have a legitimate reason for asking to return your item or for a refund, you must e-mail me within 3 days of receipt of merchandise.
All items returned must be returned in the same state that I shipped them in (i.e.~if tags were on a clothes item when you received it, they must still be on it when you return it), in the same packing materials and recieved by me within 10 days of the date of confirmation delivery to your post office. All items must be returned to the return address on your mailing label(see the Contact Me page for my address), postage paid and insured for a refund.I will refund your bid price, but I will not refund any postage costs. (please understand that I have already paid listing fee's, closing costs and most likely, credit card fee's) Refund will be made immediately after I receive the item, by the method that I received your payment (PayPal, PayDirect or Money Order. I will not send cash thru the mail~I'm sorry)

DAMAGED MERCHANDISE
*IF YOU DO NOT PAY FOR INSURANCE ON YOUR ITEM I CANNOT BE RESPONSIBLE FOR THE PACKAGE AFTER IT LEAVES MY CARE*
If your item is insured and arrives damaged,then, please e-mail me as soon as possible. I will get back to you within 24 hours.
Save all packaging materials.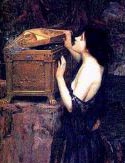 Your Privacy
Okay, in a nutshell, I do not and will not share, sell or give any of your information to anyone else, nor will I ever. Creek Avenue Auctions is committed to protecting your privacy and to providing a safe auction experience for everyone. Any information that you provide me will is used for payment and shipping purposes, only.
In addition, PayPal, PayDirect and ProPay (my merchant account for accepting MasterCard and Visa) all utilize Secure Sockets Layer Protocol (SSL) with 128-bit encryption so you may rest assured that your credit and personal information are completely safe.

ANTI-SPAM POLICY
Creek Avenue Auctions has a strict anti-spam policy. The only time you will be contacted by CAA is by e-mail after you've won an auction(s), in answer to questions asked by e-mail or if you win the Strega's Lair Monthly Giveaway Drawing.
I will not e-mail you two weeks after our transaction has concluded with Creek Avenue specials or coupons or "look what sale I'm having this week" junk mail~sellers have done and continue to do that to me and it irritates me to no end. I'm sure that you get enough spam-you don't need any from me.