A Little About Your Auctioneer and Web Mistress
I really hate this part but since I am always curious about the sellers that I buy from on the auctions, I figure that most other people are, too.
My name is Brenda Smith~honest*grin* I'm a 34 year old Solitary Witch. I have 2 sons, 1 husband and 2 male black cats. They help me with the auction business when they can~well at least the first 3 do, the cats mostly just want to sniff the herbs, bat at the jewelry and knock over the displays when I take pictures. That's Lestat in the picture~he's only cute when he's asleep.
Most of the time I really love what I do. There are times when I get tired of being on the computer, taking pictures, and the mess of inventory in the living room but that never lasts for very long.
I am exceedingly honest and I cannot stand liars. I try to treat all my customers the way that I want to be treated when I am the one doing the buying. Okay, that's enough about me.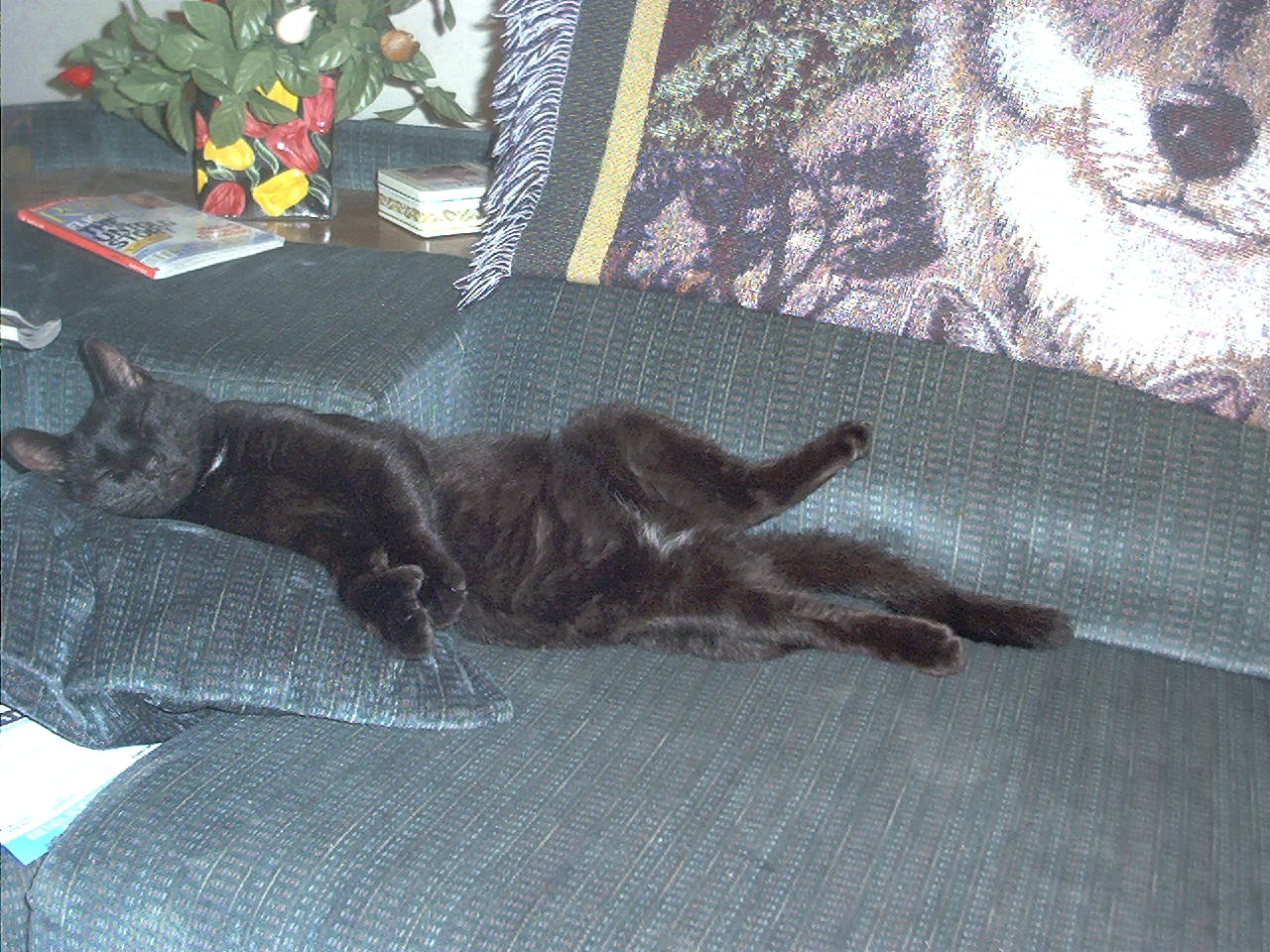 The Story of Creek Avenue Auctions
There is really not much to this story~but here goes. In 2001, I discovered auctions. I also went a little wild*grin* I had so much fun buying that it occured to me that maybe it was also fun selling and so Creek Avenue was born. I alone am Creek Avenue. I own, operate, design and maintain this site and my auction ads. I do not own a store and while I would love to have a "real" Pagan/Wiccan store, I live in the bible-belt. (That should tell you all you need to know) Creek Avenue is run out of my home. I have my inventory scattered about the house, simply from lack of room (it drives my husband crazy :)
The website came into being because I wanted a place to bring all of the items that I sell on 9 different sites together. It was also a challenge~it still is as I'm finding new things to add to the site all the time. I've had a great time putting this site together and it gave me the much needed knowledge that I used when I built my on-line store~Strega's Lair.
So, there you have it, that's my story and I'm sticking to it.
Stop by for a Visit!



"Spend More Time Performing Ritual's That Matter & Less Time On Money Spells"
Every Item In Our Store Is Priced Below Retail.

Many, many thanks to Dee Drury for her patience and time in finding the perfect banner. If you need a banner or a web page just click HERE to e-mail Dee.